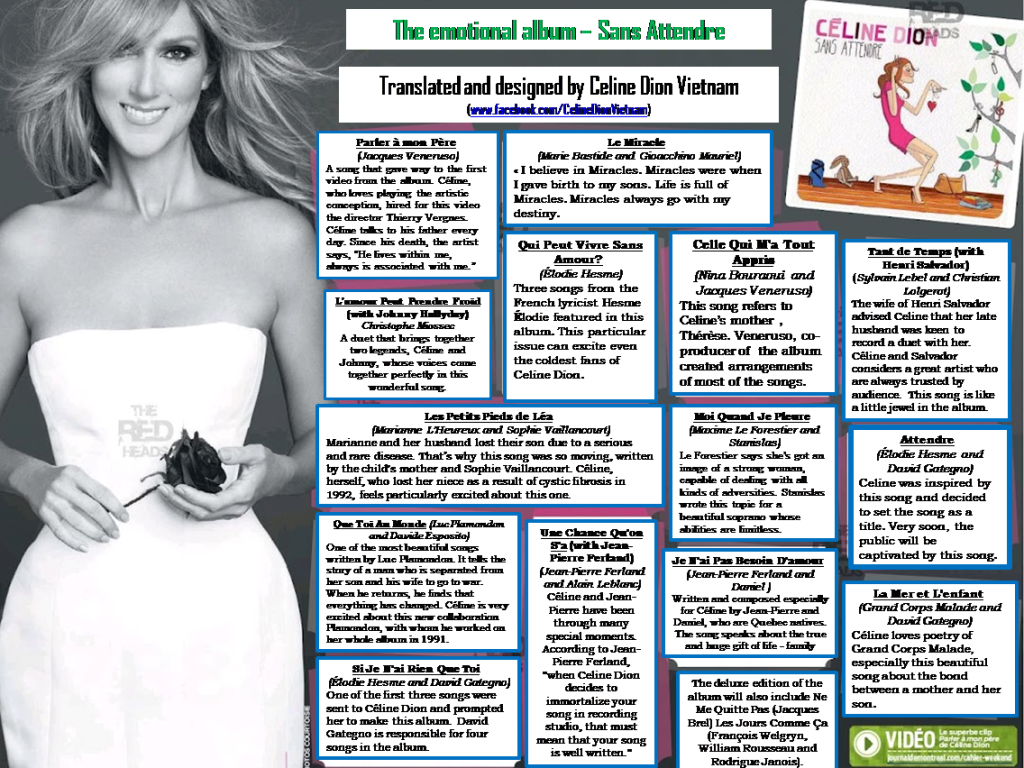 The full details of all the songs in Sans Attendre.
Parler à mon Père (Jacques Veneruso)
A song that gave way to the first video from the album. Céline, who loves playing the artistic conception, hired for this video the director Thierry Vergnes. Céline talks to his father every day. Since his death, the artist says, "He lives within me, always is associated with me."
Le Miracle (Marie Bastide and Gioacchino Mauriel)
"I believe in Miracles. Miracles were when I gave birth to my sons. Life is full of Miracles. Miracles always go with my destiny."
L'amour Peut Prendre Froid (with Johnny Hallyday) Christophe Miossec
A duet that brings together two legends, Céline and Johnny, whose voices come together perfectly in this wonderful song.
Qui Peut Vivre Sans Amour? (Élodie Hesme)
Three songs from the French lyricist Hesme Élodie featured in this album. This particular issue can excite even the coldest fans of Celine Dion.
Celle Qui M'a Tout Appris (Nina Bouraoui and Jacques Veneruso)
This song refers to Celine's mother , Thérèse. Veneruso, co-producer of the album created arrangements of most of the songs.
Tant de Temps (with Henri Salvador) (Sylvain Lebel and Christian Lolgerot)
The wife of Henri Salvador advised Celine that her late husband was keen to record a duet with her. Céline and Salvador considers a great artist who are always trusted by audience. This song is like a little jewel in the album.
Les Petits Pieds de Léa (Marianne L'Heureux and Sophie Vaillancourt)
Marianne and her husband lost their son due to a serious and rare disease. That's why this song was so moving, written by the child's mother and Sophie Vaillancourt. Céline, herself, who lost her niece as a result of cystic fibrosis in 1992, feels particularly excited about this one.
Moi Quand Je Pleure (Maxime Le Forestier and Stanislas)
Le Forestier says she's got an image of a strong woman, capable of dealing with all kinds of adversities. Stanislas wrote this topic for a beautiful soprano whose abilities are limitless.
Attendre (Élodie Hesme and David Gategno)
Celine was inspired by this song and decided to set the song as a title. Very soon, the public will be captivated by this song.
Que Toi Au Monde (Luc Plamondon and Davide Esposito)
One of the most beautiful songs written by Luc Plamondon. It tells the story of a man who is separated from her son and his wife to go to war. When he returns, he finds that everything has changed. Céline is very excited about this new collaboration Plamondon, with whom he worked on her whole album in 1991.
Si Je N'ai Rien Que Toi (Élodie Hesme and David Gategno)
One of the first three songs were sent to Céline Dion and prompted her to make this album. David Gategno is responsible for four songs in the album.
Une Chance Qu'on S'a (with Jean-Pierre Ferland) Jean-Pierre Ferland and Alain Leblanc
Céline and Jean-Pierre have been through many special moments. According to Jean-Pierre Ferland, "when Celine Dion decides to immortalize your song in recording studio, that must mean that your song is well written."
La Mer et L'enfant (Grand Corps Malade and David Gategno)
Céline loves poetry of Grand Corps Malade, especially this beautiful song about the bond between a mother and her son.
The deluxe edition of the album will also include Ne Me Quitte Pas (Jacques Brel) Les Jours Comme Ça (François Welgryn, William Rousseau and Rodrigue Janois).